DOC (Department of Conservation) website.
The milford track route must be walked as a 4-days and 3-nights track. It can be walked in one direction only and there is no flexibility in this track. The huts that should be booked are:
1st night - Clinton Hut
2nd night - Mintaro Hut
3rd night - Dumpling Hut
You must pick your hut-enterance tickets from Te Anau DOC visitor center and take them to the track.
p.s. This track is the most popular trek in New Zealand and is considered to be the "finest walk in the world". Milford track availability is very tense. Travelers make their reservations 9-12 months in advance. If you haven't done so, most probably everything is already taken. Luckily, there are many cancellations, but how can one know about them and be among the first ones to book? This is where NZtracker comes in...
NZtracker service will give you notifications when reservations are cancelled, so that you can easily book the available spots.

Getting to the start of the Milford track


Optional: You have to get to "Te Anau Downs". A boat from Te Anau Downs will take you to the start of the trek.
You can use your car to get there.
Or public transportation. In case you want to use a bus, you can book a ticket from Te Anau to Te Anau Downs via DOC reservation website.
MUST : A boat from "Te Anau Downs" will take you to "Glade Wharf", where the Milford track begins. Thus, you have to reserve a boat (via the DOC website) in advance.

Another alternative is reaching the start of the track via Dore Pass Route. Note, this is a challenging route for experienced hikers only.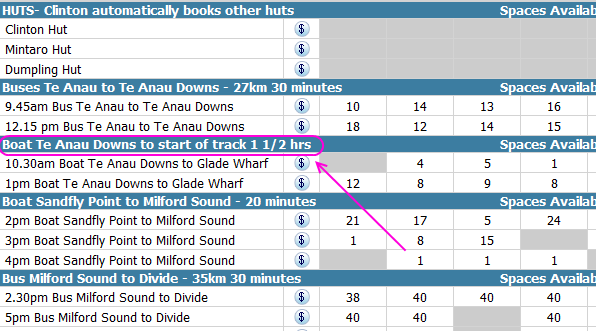 *map from Google




Returning back
MUST : You will end the Milford track at "Sandfly point" (yes, there are heaps of sandflies there…!) You should book the boat that will take you from this point to the Milford sound village. Since the last day is a long day, it is recommended to book the latest boat so that you don't have to rush.


*map from Google



At the end of the last day, you will, inevitably, have to arrive to the place where you want to stay that night. We recommended you reserve your sleeping place for that day in advance.
This are has a lot of travelers and you will have a variety of ways reaching your hotel/camp for that night:
You can hitchhike (can be sometime tiring, especially after a 4-day walk)
Use public transportation
Use your own car (if you are willing to take extra effort and drive your car to Milford sound before starting the trek and leave it there in advance).
Companies like EasyHikes will pick up your car while you are on the track, and drive it to Milford sound for you.


Milford Weather
The route located in the Milford Sound area, in the Fiordland National Park in New Zealand. The milford sound weather is highly unstable. Winds, rains and snow can occur anytime during the year. It is highly recommended to check the metservice website for the milford track weather forecast. However, since the weather is so unstable, it would be almost impossible to exactly predict the weather conditions even 2-3 in advance. Therefore, it is recommended that you take the needed gear and be prepared for any weather scenarios.


Gear
Here are some things you are advised to take with you:
Extra clothes. The weather is crazy and there is a good chance you will get wet.
Insect repellent. Take a good anti-sandfly spray.
Waterproof bags for your camera and other valuable belongings.
Waterproof clothes
Warm clothing (even in summer)
Enough food for all days
Earplugs. Essential if you want to sleep at night (for sure, someone will be snoring in the huts).
Flipflops(no boots are allowed inside huts).
Flashlight
-->