Kepler track route description
When we came to New Zealand we had so many hikes in our to-do list that we didn't know where to start from. We met many travelers and everyone told us not to miss the Kepler track. As usual, we didn't book the track in advance and it was fully booked for the following month. As our time was limited we have been checking the DOC website endless number of times a day, hoping for any cancellations. Luckily, we booked!
The Kepler is one of the best great walks in New Zealand. Its biggest advantage is that it is planned in a loop. You don't have the transport headaches at the start and and the end of the track (although we combined the third day of the hike and half of the fourth day's hike and left the track at Rainbow Swing Bridge).
The track is 3-4 days hike and is not an easy one. Luckily, we did it after spending 2 months in New Zealand and were already quite fit. The start and end of the track located in the car park, which is about 5 km from Te Anau town.
Day 1: Te Anau to Luxmore Hut, 15.8km
The first part of the track is an easy walk that takes you along the shores of lake TeAnau and through beautiful forest. After approximately 1.5 hours we reached the Broad Bay campsite and stopped for couple of minutes to enjoy the view.
Unfortunately, we were attacked by vicious sandflies and decided to walk on. Starting from that point the track started to climb up for 2 hours up to the beautiful limestone bluffs before getting to the bush line. Here we found a panoramic views of Te Anau basin, Lake Manapouri and the beautiful mountains. This was a great place for a lunch break! We took some pictures and enjoyed breathtaking views. The climb up has not disapont us and provided outstanding bush views, just as New Zealnad usually did.
Shortly after, we have reached the Luxmore Hut. A great and unexpected surprise was awaiting for us. No doubt that this was a good way to compensate us for the long way :)
In Luxmore hut there are 2 rooms – a big and a smaller one (which will apparently be quitter). Since we came to the hut around 5 pm, we didn't have much bunks left and had to go for the bigger room. It might be a good idea to start the track earlier and arrive earlier to the hut. Thus you can have the smaller room and also have more time to enjoy the view. However, if you start late – do not run. Its not worth it. Keep walking and enjoy the views – this is what you are doing the track for.
After leaving your bags in the room, a short 20-min return side trip will take you to beautiful Luxmore hut cave:
In the evening we cooked dinner - an instant soup with pasta (yeah… not too sophisticated). It was a great opportunity to meet a lot of interesting people in the kitchen. By the way, some of them prepared huge dinners and carried lot of ingredients kitchen equipment. Don't do this if you are a beginner hiker. Think well about every pound you take with you. The extra weight can ruin your walk. It does not worth it! There are other, more appropriate places, where you can exhibit your cooking skills  
Day 2: Luxmore Hut > Iris Burn Hut, 14.6km
This is the most beautiful day for the track and hopefuly, you will have a clear sky! We started the day with some oatmeal and coffee and went to our way. Since it was foggy and we didn't hurry up and hoped the weather will change. The climb up from the hut to the ridge was not too hard.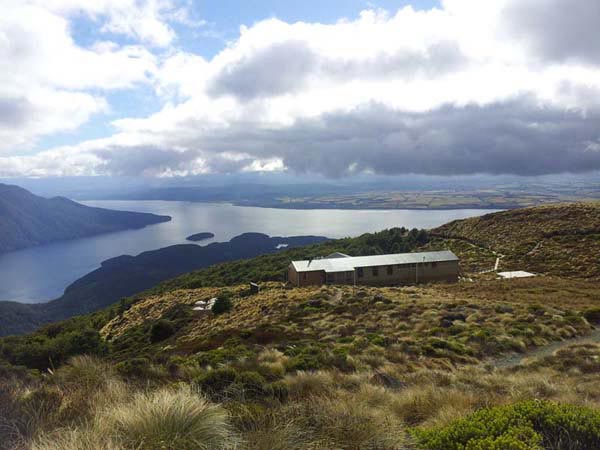 At the top of the mountain, we decided to walk a 10 minute side trip to the summit (1,472 m). When we arrived to the summit we were almost fully "covered by clouds". The visibility was very poor. Luckily, (as often happens in New Zealand), the weather changed drastically and within 10 min all cloud were gone and stunning panoramic views were revealed.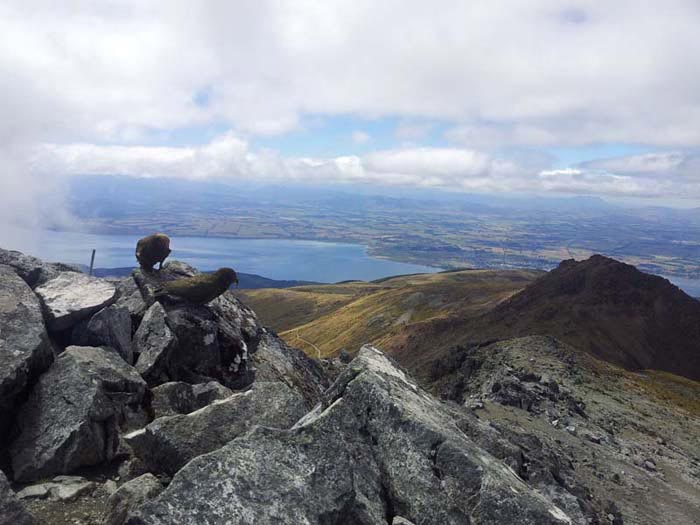 The summit was full with Kea birds, which are stuningly beautiful and fearless - just keep an eye on your bag if you dont want them to steal something from it ;)
We made our way down and the next couple of hours took us across ridges, with breathtaking views all around us. We had our lunch in Hanging Valley Shelter together with some other hikers we met in our way. A great place to rest and enjoy the amazing view!
The track continued down through a beautiful forest. Before Iris Bur Hut we decided to walk another short side walk to Iris Burn Falls. Travelers say that if you go in the evening and you are lucky you may see some glow worms (we didn't have the luck). It was a long day and when we have arrived we were so tired that we passed our dinner and went straight to bed.
Day 3, Iris Burn Hut > Rainbow Reach, 22.2km
A long hike was ahead of us this on this day because we decided to shorten the route to 3 days and combine the third day with part of the fourth day. We met some new friends who parked their car in Rainbow Reach and agreed to give us a ride. We woke up at 6:30 (we were the first to get up in the hut), ate quick breakfast and started our long way.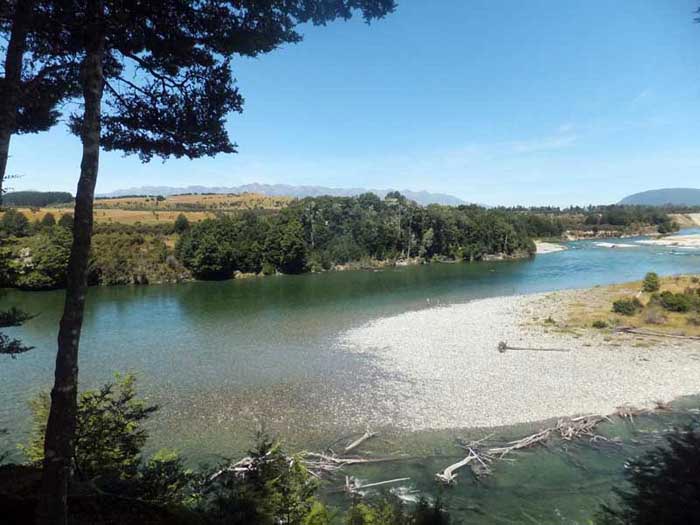 This day is mostly going in the bush. It was an easy but a long day. We have passed Moturau hut located near a beautiful beach with beautiful views of Lake Manapouri and continued in our way to Rainbow Reach where we have ended out track.
These few days were amazing and I strongly recommend not to miss this track!!